"Readers Favorite" for Authors and Reviewers
Back in 2010 I signed up with an interesting website that has members review the books of authors and they give awards to the ones the reviewers like the best. They had an affiliate program, so I signed up and put their banners on my site, ruthes-secretroses.com – which, naturally, is about my novel.
Well, on Sunday night, I came upon an email from them announcing that they have revamped their website to make it more modern and mobile friendly, and …so, I went to check it out.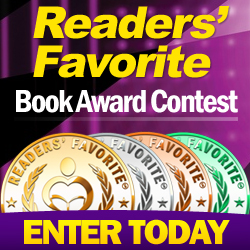 Wow! I'm impressed. They still offer the awards, and they are much prized by authors. But an author can list their book, and upload it to get a free review. That can take a few months. So the author can pay for a faster review too. There's plenty of helpful information for authors on the site.
Now if like to read and write reviews of books, you can discover some terrific books by volunteering to review. You can also win free Kindle books, and even win free books for your favourite school, library or charity.
There are some excellent forums for both authors and reviewers. I got hooked and couldn't leave for quite a while. (If I hang out there much, I won't get my regular work done!)
I need to go through my RSR site, and update all my banners, but here's one that will take you there in a jiffy; Readers' Favorite Book Award Contest – Enter Today!